SR 114
Project Details
| | |
| --- | --- |
| Original Construction Year | 1995 |
| Most Recent Rebuild Year | |
| Total Cost | 0.00 |
| Total Capital Cost | $0.00 |
| Latitude / Longitude Method | Unknown |
| Latitude | 41.095278 |
| Longitude | -79.826944 |
| Elevation | 1300 |
| | |
| --- | --- |
| Project | SR 114 |
| Project Type | Passive Treatment System |
| Project Status | |
| AMD Source | |
| Stream | Slippery Rock Creek |
| Watershed | |
| River Basin | |
| Quad | Hilliards, PA |
| City/Township | Washington Township |
| County | Butler |
| State | PA |
---
Description: One of the oldest passive systems in the watershed. The system was installed to treat mine drainage emanating from an old deep mine on State Game Lands property and includes ALDs, settling ponds, and wetlands.
Water Quality Data Summary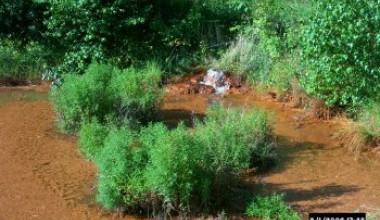 Contact Person:
Contact Organization:
Project Designer:
Project Designer Organization:
Project Responsible Organization:
Stream Restoration Inc.